FROZEN BOILED ABALONE MEAT SKEWER remove shell and viscera, easy for BBQ and hot pot
Product Detail
Product Tags
1.Remove shell and viscera, after high temperature boiling, keep the strong sea umami flavor and a juicy texture.
2. High protein, low fat, balanced nutrition.
3. Abalone contains 18 kinds of amino acids, which are complete and rich in content.
4. Suitable for all kinds of cooking methods, essential ingredients for family hot pot or outdoor BBQ.
5.Easy to eat.
Frozen boiled abalone meat, remove shell and viscera is live abalone has been washed, blanched at high temperature, remove the shell and viscera, string it together, frozen at low temperature and locked in nutrients.
Abalone contains abundant protein, abalones have tonifying, complexion-beautifying, blood pressure regulating, liver-nourishing, vision-improving, yin-enriching, and heat-removing properties. In particular, their yin-enriching and vision-improvement properties are extremely potent, making them suitable for people with conditions such as poor vision.
"Captain Jiang" frozen abalone comes from Fuzhou Rixing Aquatic Food Co., Ltd's 300 hm² breeding base, which is the largest breeding base of abalone and sea cucumber in China. The whole breeding process is guided by scientific and effective quality management system to achieve a scientific management. Our company forbids to use drug during breeding and avoids man-made pollution to make sure high quality and sanitary safety of raw material.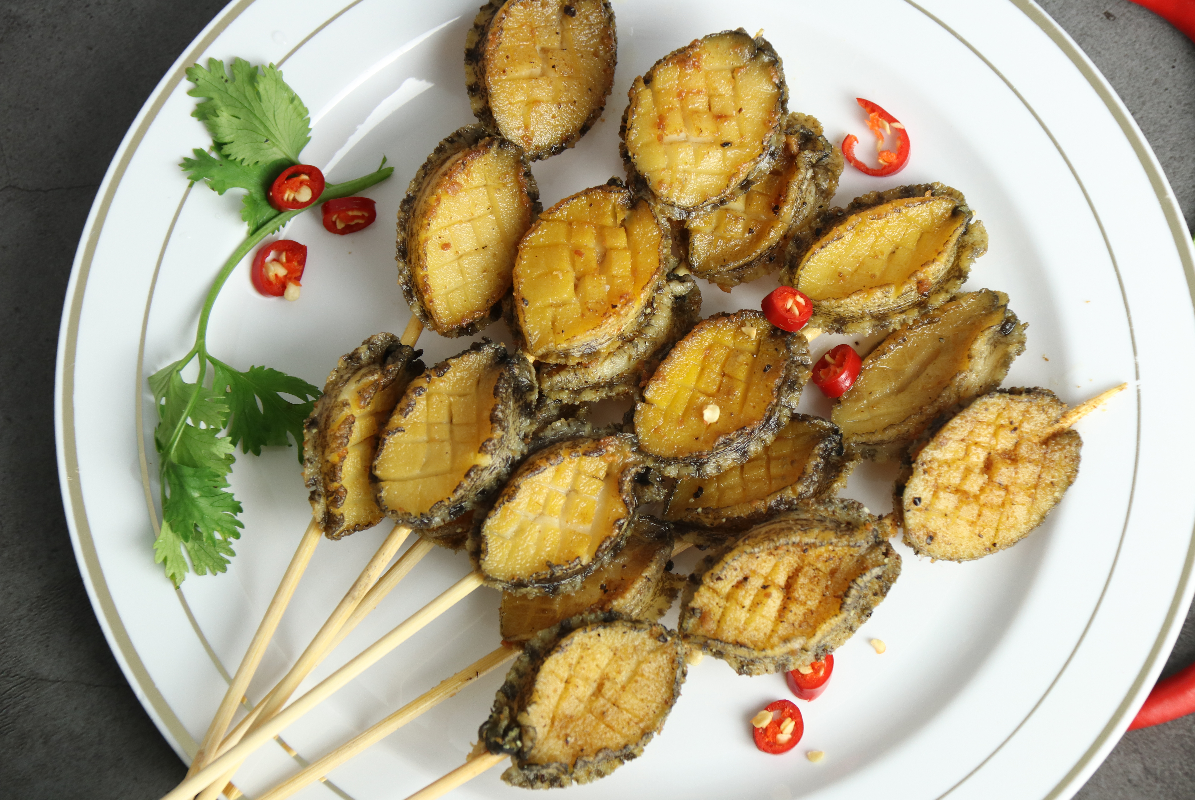 BBQ abalone skewers
Abalone meat skewers and other ingredients are placed on the grill, brush the abalone surface with olive-oil and bake until the surface is slightly charred. Sprinkle seasoning powder according to personal preference.
Hot pot abalone skewers
According to personal preference prepare the hot pot soup, add vegetables and other ingredients into the hot pot, and finally add abalone meat skewers. Let the abalone meat absorb the aroma of the soup then serve it.