Product Detail
Product Tags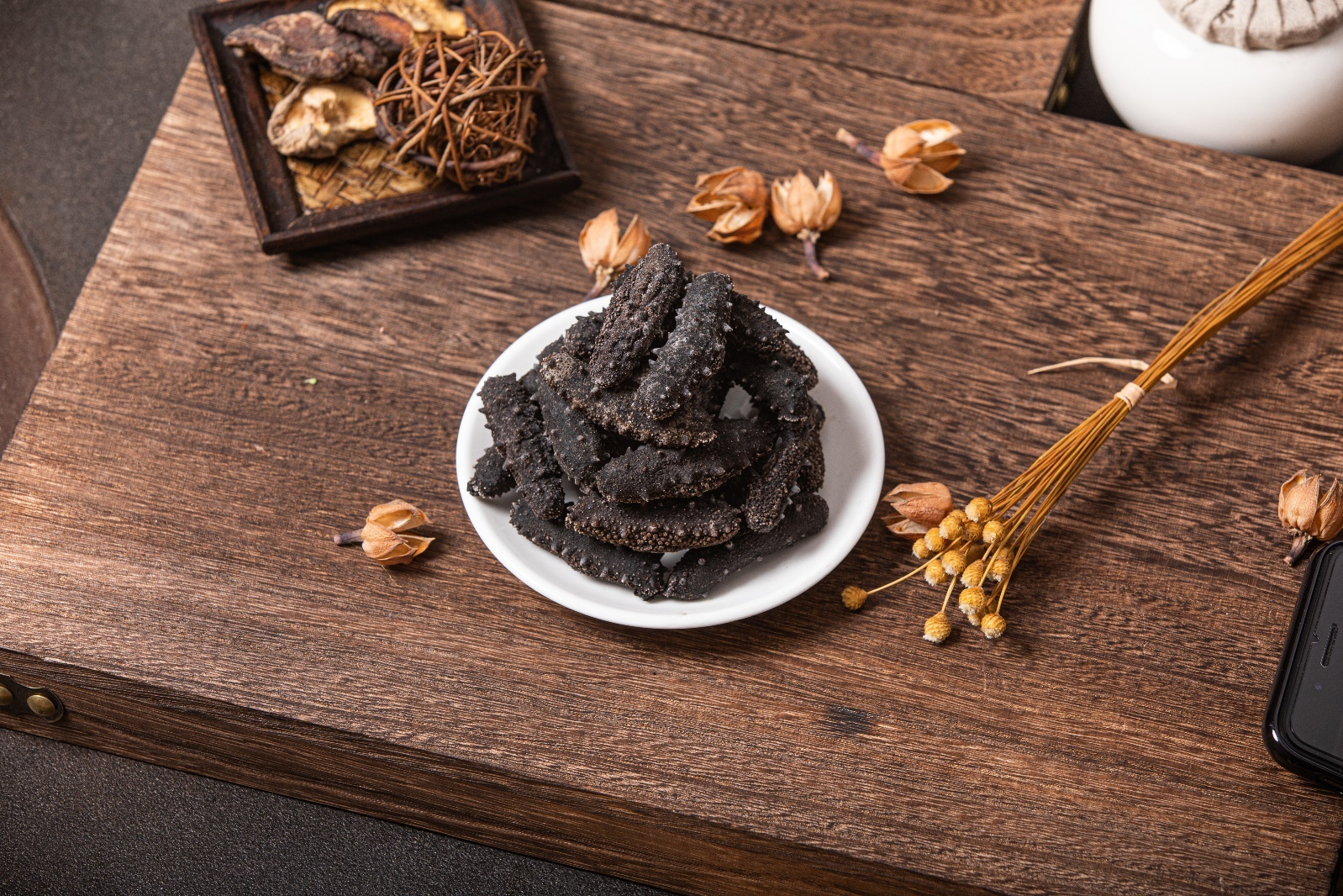 Main ingredients: Sea cucumber(The sea cucumbers are harvested from the company's sea cucumber farming base, where the water quality is good and the sea cucumbers are raised with thick skin and rich in collagen.)
Taste:  The sea cucumber is processed by removing the internal organs, washing, boiling, shrinking and cold air-drying at low temperature. It has a natural light black colour, full and complete body, thick and strong spines and dense gastropods.
Suitable for: Suitable for all ages (Except for those with seafood allergy)
Major allergens: Sea cucumber
Nutritional ingredient:
1. Rich in protein, low in fat and cholesterol.
2. Known as the "Arginine Monopoly". It contains 8 essential amino acids that cannot be synthesised by the human body, of which arginine and lysine are the most abundant.
3. Rich in trace elements, especially calcium, vanadium, sodium, selenium and magnesium. Sea cucumber contains the most trace elements of all kinds of food, vanadium, which can participate in the transport of iron in the blood and enhance the ability to build blood.
4. Contains special active nutrients, sea cucumber acidic mucopolysaccharides, sea cucumber saponins (sea cucurbitin, sea cucumber toxin), sea cucumber lipids, sea cucumber gliadin, taurine, etc.
Funtion:  Beauty and beauty, lowering the three highs, increasing blood production, accelerating wound healing, promoting development, enhancing immunity, inhibiting the formation of blood clots, inhibiting the growth of cancer cells and preventing prostate diseases in men.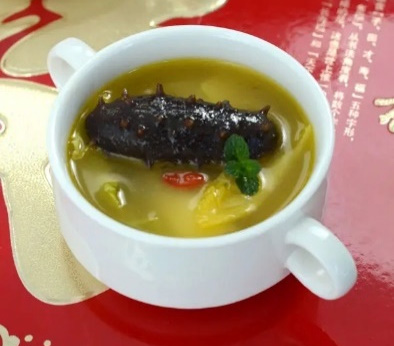 Chicken soup with sea cucumber
Soak the sea cucumbers in water for about 2 days (depending on their sizes), and change the water at least once per day. Boil sea cucumbers and vegetables until warm, remove.Stir the shrimp and bacon in a warm pan with oil. Take a small pot of oil and add the onion ginger saute. Quickly add the chicken soup and other seasoning, boil. Add the sea cucumber, wet starch, and shrimp, stir together a few moments to warm the ingredients. Pour all ingredients into a bowl.