Fresh abalone Braise abalone canned
Product Detail
Product Tags
Main ingredients: Fresh Abalone(The abalone originates from the company's own environmentally friendly plastic fishing raft farming base of 300 hectares, which is ecologically farmed, organic and healthy.)
Taste: The high stock is simmered for a bright red colour, fresh and thick.
Suitable for: Suitable for all ages (Except for those with seafood allergy)
Major allergens: Molluscs (Abalone)
Nutritional ingredient: Abalone is a traditional and precious Chinese ingredient. Its meat is tender and rich in flavour. It ranks as one of the "Eight Treasures of the Sea" and is known as the "Crown of Seafood". It is an extremely valuable seafood and has been renowned in the international market. Not only that, abalone is also rich in nutrition and has great medicinal value. Studies have found that abalone is rich in protein, 30% to 50% of which is collagen, far more than other fish and shellfish. It is also rich in protein, amino acids and calcium (Ca), which is important for regulating the body's acid-base balance and maintaining neuromuscular excitement. It is also rich in iron (Fe), zinc (Zn), selenium (Se), magnesium (Mg) and other mineral elements.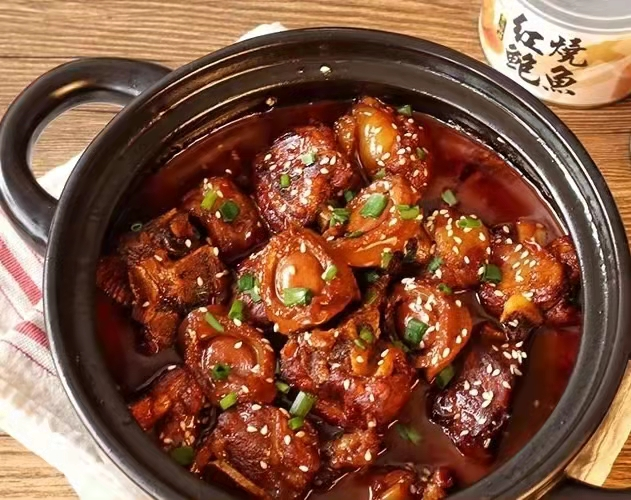 Braised Pork Ribs with Abalone
Put the pork ribs in boiling water with onion ginger and cooking wine. Stir-fry the ribs in oil, add soy sauce and oyster sauce, stir-fry and add water cook for 30 minutes. Pour a bottle of braised abalone can into the pot and continue to cook for two minutes.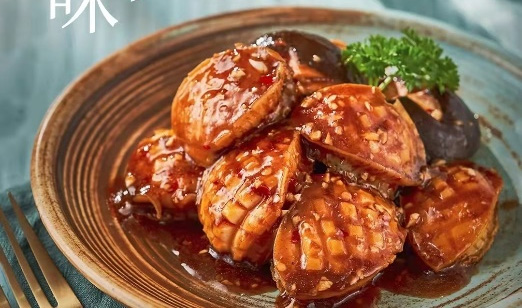 Braised Abalone with Garlic
Draw the cross on the surface of abalone meat, prepare the garlic minced, and cut the green onion into sections. Stir-fry the minced garlic in the pot, add canned abalone and stir-fry for a minute, at last, add some green onions and finish.